Tips to start surfing in the Basque Country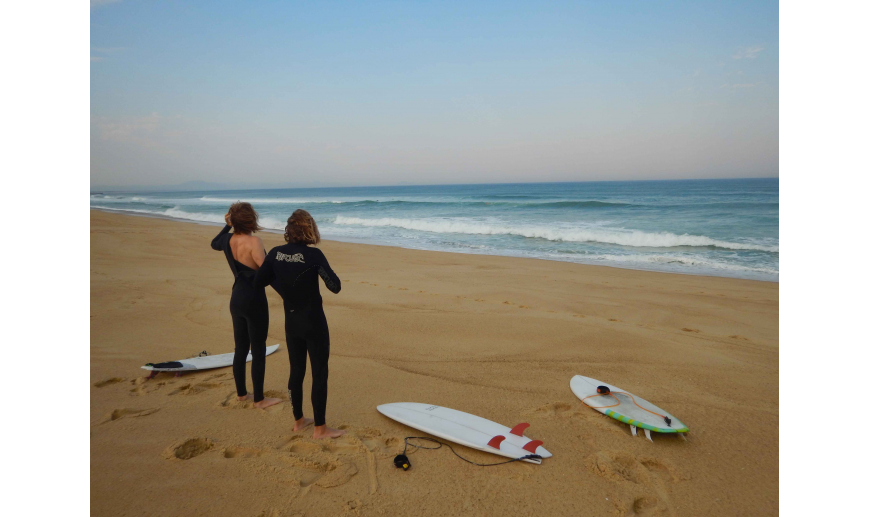 Tips to start surfing in the Basque Country
Have you ever dreamed of being a pro surfer and having your own picture in a barrel... well, everyone can learn how to surf...
You just need to be motivated, diligent and practice as much as possible! Don't panic in a week of intensive surfing, you can have your first waves and sensations. To be a pro, it will take a few more hours... But as for any sport, you have to be a beginner first and then become an expert.
If you want to start surfing safely, but also want to learn quickly, we have some good tips, addresses and safety rules for you.
Learning methods to surf
- The first one : learn to surf alone
Learning to surf alone is possible, it is not recommended, but you can try. Then you have to stop by the shop and our team will advise you the perfect surf spot to start safely. Our staff will look at the forecast to find the beach for you and will rent you the right surfboard so that you can progress on your own. In fact, if you're improving quickly, don't hesitate to come to the shop to pick up another board and don't stop your progress. The team will know how to accompany you to succeed in choosing the right equipment to start. 
- The second one : take surfing lessons
As you will have understood, in terms of safety and speed of learning, the best thing to do is to take lessons. For a large number of people, about ten hours are enough to stand up and surf the wave all the way to the beach. Our friends from delpero surf experience are the best on the Basque Coast.
Surf schools in France
- The network of the French Surfing Federation 
It includes more than a hundred schools and clubs throughout France and the French overseas departments and territories. For example, for your holidays on the Basque coast, there is "l'école de la glisse" in Bidart, which has the label. 
- Surf schools in Brittany 
The Breton network of surf schools is present in a large part of the region. Equipment is available to practice with instructors in complete safety. 
- Non-labelled surf schools
Instructors who have their French diplomas, but who do not belong to the French or Breton label. 
The perfect places to learn to surf
When you start out, you have to surf beach breaks, sandy beaches. It's obvious that if you don't master the board and the take-off, you're safer on a wave with a sandy bottom than on a wave with a rocky bottom. 
To learn how to surf, the French coasts have sublime waves. Whether you are in Brittany, the Gironde, the Landes or the Basque Country you will find what you are looking for. It is nevertheless important to know that the south-west of France is the coast that catches the swell the best. There are therefore more often waves in the Landes and the Basque Country. Summer is a season where the swell is often smaller, so to be sure you can surf during your week off it is advisable to go to the Landes or the Basque Country. 
If you want an example of a spot, the beach of the royal pavilion of Bidart is a perfect spot to learn how to surf. A beach that is not dangerous and that catches the swell easily. 
Safety rules of surfing
The main rule for a beginner must be: Only one person per wave
Only one surfer takes the wave to avoid collisions. Priority is given to whoever is standing on the wave and if he is not yet on the wave, it is the one closest to the foam. 
Do not surf in the swimming area (blue flags).
You risk a fine, but above all you risk injuring the swimmers.
Do not fight against the current.
This is easier said than done, but if you feel carried away, let the current carry you. Once you are out of the current, you can slowly make your way back to the edge of the beach. Don't worry, it's often just a matter of a few meters. 
If the beach has a surf zone flag, you must go practice in this zone. 
The flag is green with a red circle and is often located not far from the swimming area. Do not hesitate to ask the MNS (lifeguard)
Don't go surfing in big waves if you're not ready.
When you're a beginner, don't go over 1 m of wave. Besides, if you are afraid, don't go in the water. You could panic and put yourself and other surfers in danger. If you have any doubt about the size of the waves, don't hesitate to go and ask the lifeguards. 
Never let go of your board when rowing out to sea.
Dropping your board can injure others. Besides, if you want to learn how to paddle ducks, now is the time. Try to go under the waves with your board. At the beginning it's complicated but it's by repeating it that you'll get the right timing. 
Which surfboard should you choose to start with ? 
For beginners, it is not recommended to spend several hundred euros to buy a surfboard, it is better to start by renting your equipment. 
You can rent equipment in specialized shops, just like we do. In specialist shops you will find boards for beginners as well as experts, so you will have time to improve and find the board that suits you. Whether you are just starting out or you want to try a few and find the board that suits you, our quiver has what you need! 
Now get into the water, 
Enjoy the surf,
Marty